Video SEO – Ranking your videos
What Is Video SEO?
Have you tried to make the videos on your website more appealing by minimizing your video's length, adding catchy titles, and even hiring a professional for production? If yes, did it help you get more views and improve your ranking? If your answer is no, you have come to the right place.
Video SEO is different from regular SEO. It refers to the optimization of videos on your website to help get views from Google and increase your organic traffic. You achieve video optimization when your videos generate a return on investment (ROI).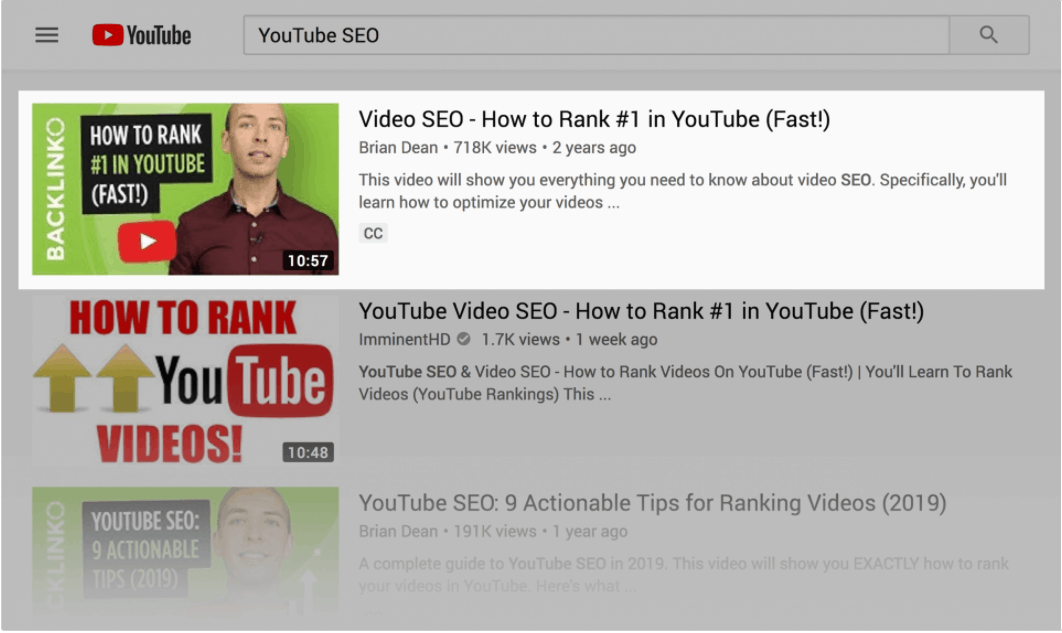 The first thing you need to do is to decide on your goals for your videos.
Define Your Video SEO Goals
Videos are an effective and exciting way to get organic traffic to your website. However, you need to consider a video strategy that fits in with your regular SEO strategies. Why is it necessary to define your video goals, you ask? If you do not establish your goals, you might end up spending a large amount of money on a video that is not even appropriate for your website.
Some website owners experience what is known as FOMO (fear of missing out) when they see other websites including videos. They also start producing a video for their website without even considering what they require from the video.
You need to ask yourself: Do I want videos for high-quality traffic, conversion, or simple organic traffic? When you set your video goals accordingly, you are more likely to find the right audience for your videos.
If you look at your video goals from an SEO point of view, there are two goals you can have. It can either be to build links or increase conversions. Let us understand how building links and increasing social shares can be beneficial.
Building Links and Increasing Social Shares for video seo
High-quality videos can generate links like no other element. It can help you link to the top domains provided you have relevant videos.
It can be tough to get these links as there is so much video content online. You require an outstanding video with an exceptional outreach strategy that positions it for backlinking from other websites.
Relevance is again a crucial factor when it comes to choosing a website you want to link from.
What do you think is the defining factor of your video? How is it any different from the ones that are already out there? These are the questions you need to answer to help determine where your videos currently stand.
Your videos need content that engages the audience and compels them to share it through social media platforms.
Moz Whiteboard Friday
As mentioned above, you need an out-of-the-box element for your video. This element will help you attract high-quality links to your website.
Try making your videos educational. One of the examples of these videos is Moz Whiteboard Friday.
Popularly known as Moz Whiteboard Friday, Moz posts a whiteboard-style video every Friday. A whiteboard-style animation refers to the static images drawn on the board while a narrator speaks in the background explaining the drawing.
Moz Whiteboard Friday attracts numerous links and social shares which increases their organic traffic. Moz Whiteboard Friday is an excellent example of how building links is easier by releasing engaging video content.
I must remind you, however, that you need to be sure of your video goals first. Putting all your efforts into outreach strategies and paying zero attention to the value your video provides will not help you achieve your goal.
Pro Tip: Try posting videos directly on your website rather than using video platforms like YouTube or Vimeo. This will help drive traffic to your website since viewers will have to share your website's link when they share your videos. If you plan on posting your videos on video platforms, remember to link them back to your main webpage.
Increase Conversions for video seo
The primary aim of any VIDEO SEO process is to improve your ranking which in turn helps with sales and conversions.
However, increasing conversions is more than a singular process. First of all, you need to attract people to your website. Secondly, you must optimize the website for people to be paying clients.
Videos are an excellent tool for conversion as they can help people stay engaged with your website. This element is especially beneficial when you add it to your website's landing page.
Adding videos to your landing page is one of the primary ways to increase conversions. Another way to do this is through rich snippets.
But first, let us look at how videos on landing pages help with conversions.
Video SEO for Landing Page
You only have just a few seconds to engage a visitor through your website. This necessitates an optimized landing page. If you only optimize the written content on your landing page, it may not be enough for visitors. You require their attention, and videos are an engaging way to get that.
When you visit any website's landing page and spend time looking at a video relevant to the business, you want to know more about it.
That is how video SEO works on a landing page. Once viewers see a convincing video about your brand, they are more likely to become paying clients. Product videos and explanatory videos are two ways to reel customers in.
Product Videos
If you are a retailer wanting to increase conversions, product videos are the ultimate solution. People buying products online feel a lot more confident if they watch the product video first.
Your product video should not contain unnecessary details. It should be concise and relevant.
Here is an example from Zappos and their product video for Levi's jeans for women. Econsultancy reported that after Zappos introduced product videos, their sales increased from 6% to 30%.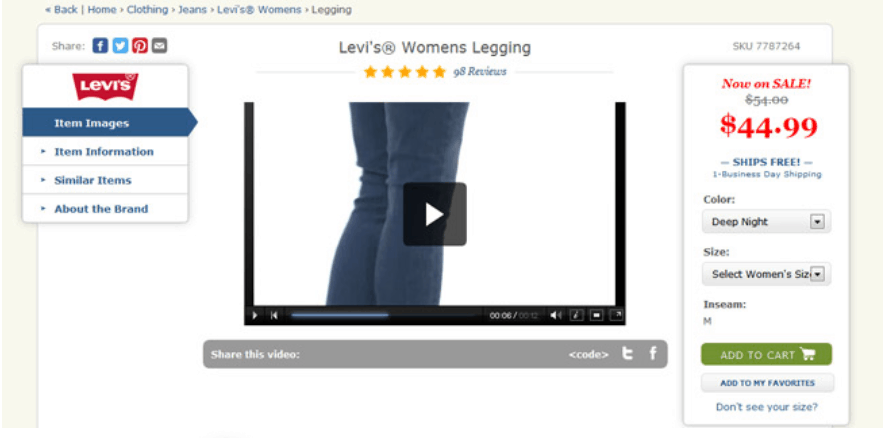 Explanatory Videos
If your brand deals with services, you can use explanatory videos for your conversions. There is no exact formula to create these videos as it depends on what kind of services you provide.
However, if you produce an introductory video of your brand, your conversions are more likely to increase. This type of video can help describe why your services are top-notch while also providing a preview of your services.
Dropbox did just this by adding videos to their homepage which increased their conversion rate by 10%.
After having established the importance and potential of video SEO, let us look at other ways you can increase conversions with video SEO:
Video SEO Through Rich Snippets
Google customarily provides a short description of your website below each search result. These are known as normal snippets. When Google provides additional information taken from structured data in your page's HTML, these are rich snippets. Some common types of rich snippets include recipes, reviews, and events.
Sometimes, people refer to the rich snippets before they visit the landing page of a website. Google has recently increased the use of rich snippets in their search results. You can take a look below for a reference to a video that has a rich snippet in the SERP.
Google displays information about your video and helps the user know that they can watch the video once they click on the link. Since users can already see your video snippet, they are more likely to visit your website. This increased traffic can improve your conversions eventually.
The thumbnail of your video is visible to the users along with the duration. It is a good practice to optimize your thumbnail by ensuring that it matches your web page's context.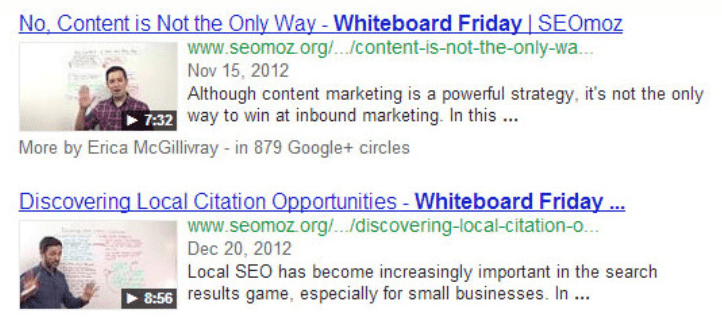 A crucial question arises: How do you use rich snippets for Video SEO?
The fundamental rule in using rich snippets for video SEO is to host the video on your website. If you work on WordPress, you can use YouTube through the Yoast plugin.
Once you have posted the video on your website, you can inform Google by adding schema codes and submitting an XML sitemap on Google Search Console.
It might seem like a tedious task, but once you start doing it regularly, you will get the hang of it. If you are ranking for high-volume keywords already, these rich snippets work like a bonus.
By now, you know the basics of video SEO. Now let us look at how you can perform keyword research for your video.
Video SEO Keyword Research
Keyword research for video seo is different from the keyword research methods we have previously taught you for written content.
You'll need to perform different keyword research for your videos since the views you get for your videos come from YouTube searches and not search engines. Though it is essential to optimize your videos for both YouTube and Google, YouTube has the upper hand.
Another reason why a separate search is necessary is that people use Google and YouTube differently. For instance, a keyword like "health insurance" may get millions of hits on Google, but it may only have a few hundred hits on YouTube.
The keyword phrase "adorable dogs" may get millions of hits on YouTube, but it may not have as many hits on Google. Hence, you'll need to do separate keyword research for video SEO.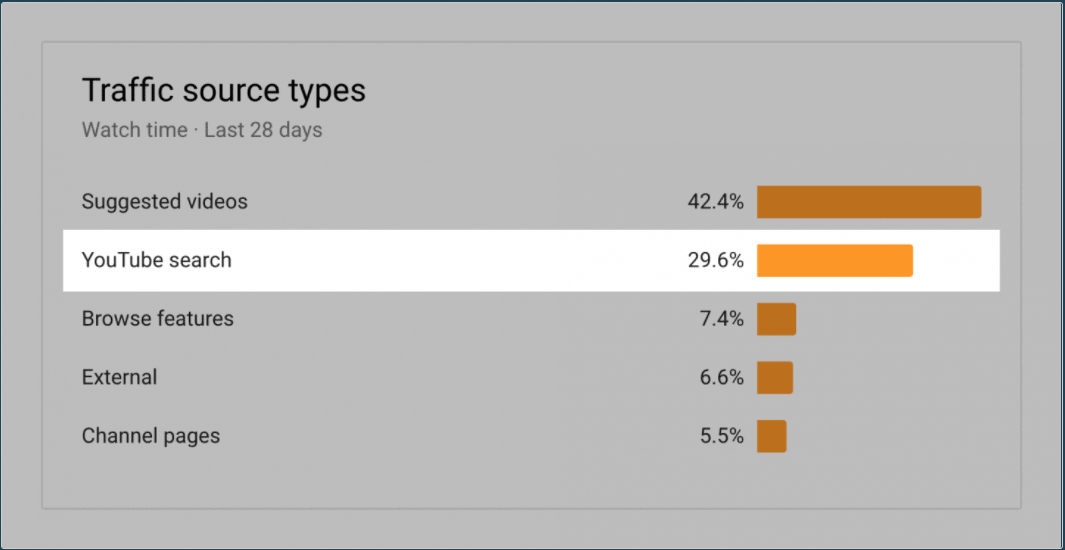 In the following section, we look at some research techniques for video keywords.
Using YouTube Suggestions for video seo
This is similar to Google's suggestions. When you add a keyword on YouTube's search bar, you get a list of options. These keywords are potential video keywords.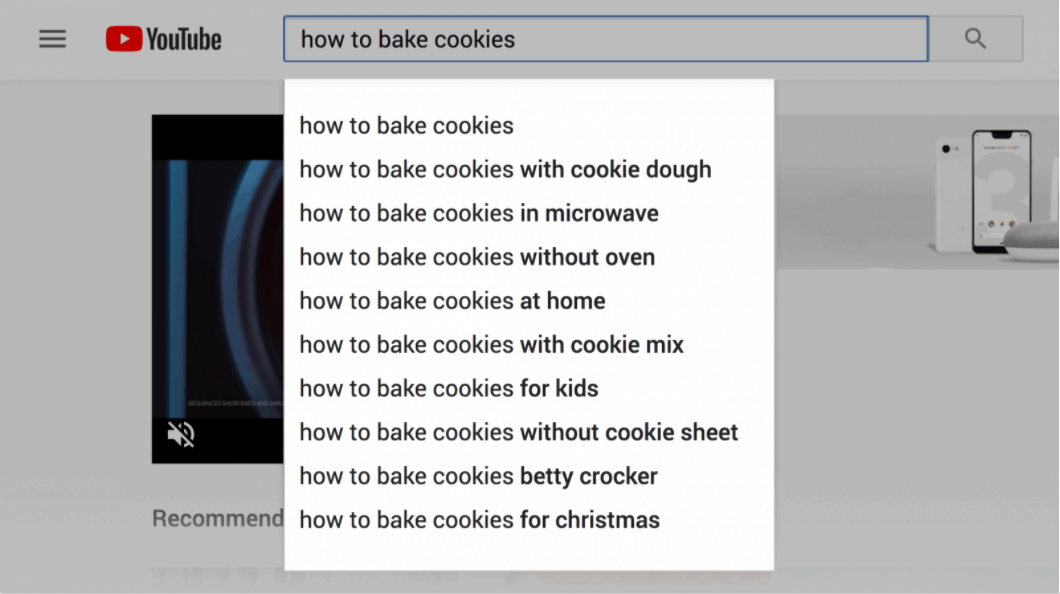 Using TubeBuddy Tags for your video SEO
If you want to know what video tags your competitors are using, this extension is your answer.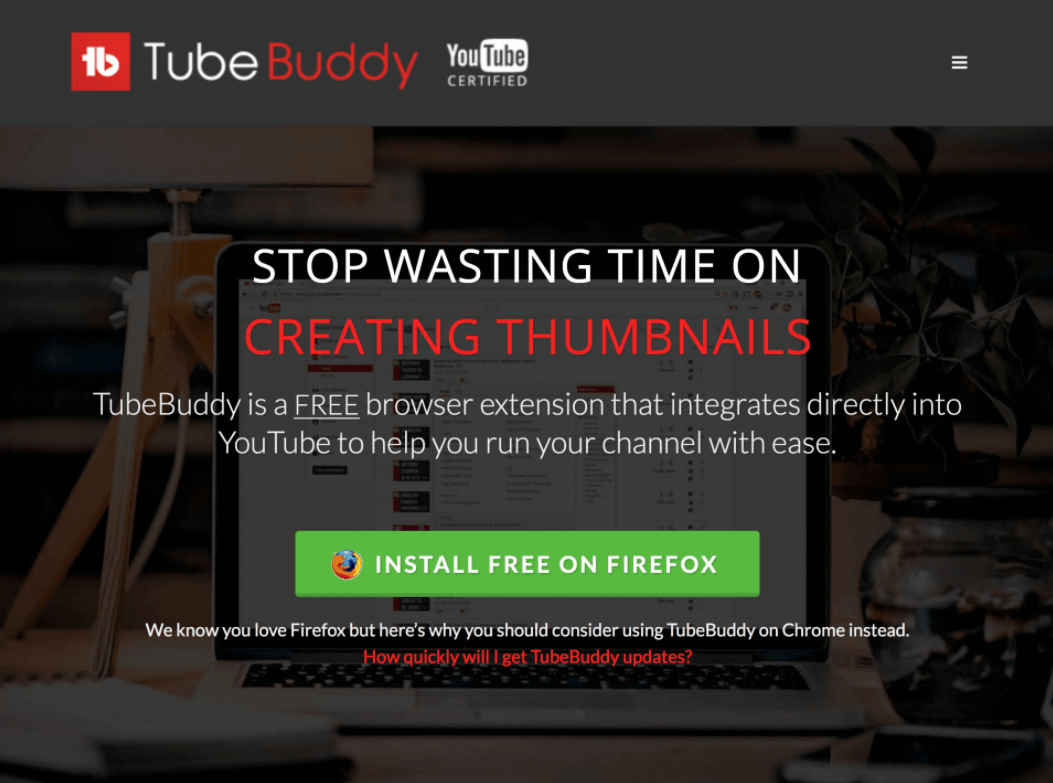 You need to install the extension on your Chrome browser and visit your competitor's YouTube page.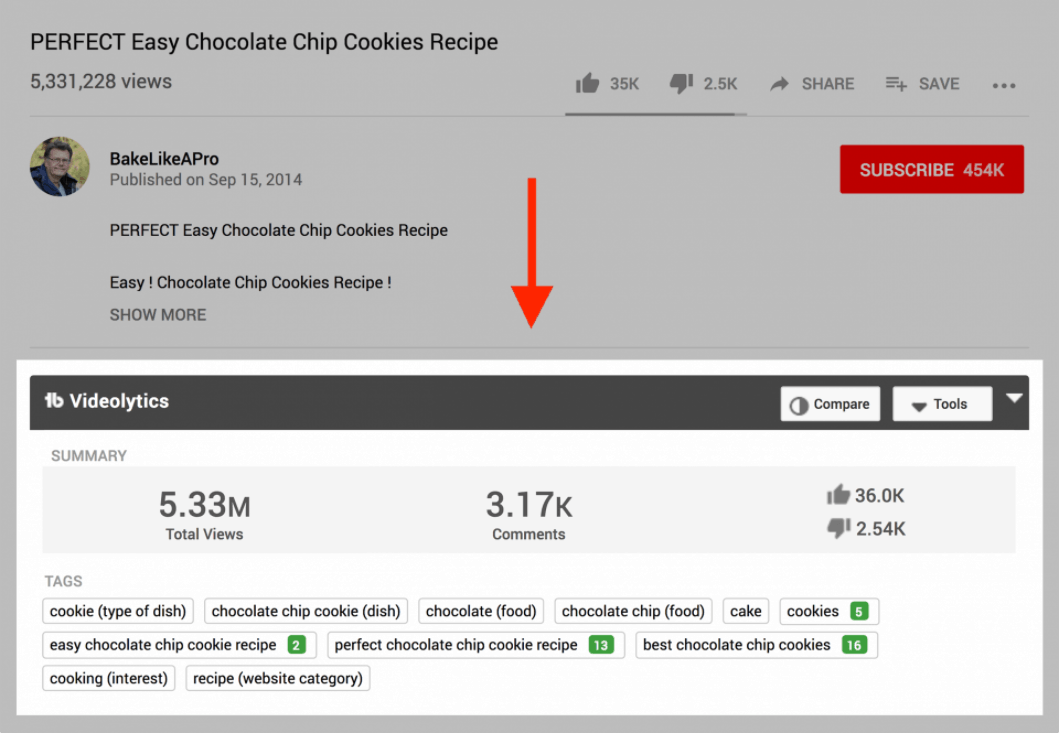 Look at the tags tab. The numbers in green boxes indicate how specific keywords rank in YouTube.

Imagine this scenario: you come across a low-quality video (relevant to your brand) with a keyword that ranks on YouTube. Why not produce a high-quality fully-optimized video using the same keyword to outrank the previous one?
Using VidlQ Keyword Search for video seo
You can use this tool to search for keywords for free, but of course, premium paying members get additional benefits.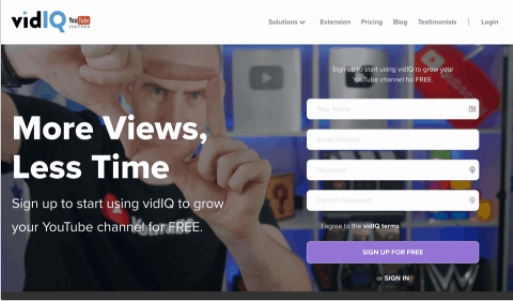 Within seconds of signing up, you get many keywords and phrases. Add your main keyword on an SEO search bar, and voila! You have all the relevant keywords and phrases for your video SEO.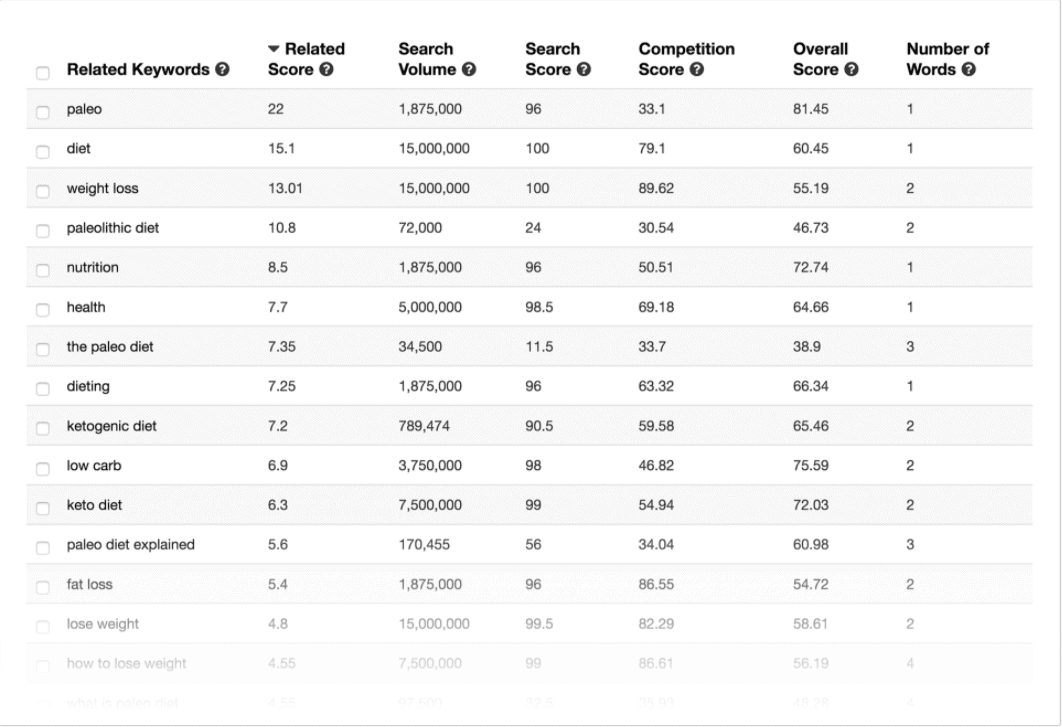 VidlQ also shows the information on high-volume keywords that have low competition.
Using YT Cockpit for video seo
This tool works specifically for YouTube keyword research. You need to add your seed keyword into the search bar of this tool. The tool will then display a list of keywords and phrases with each keywords' metrics.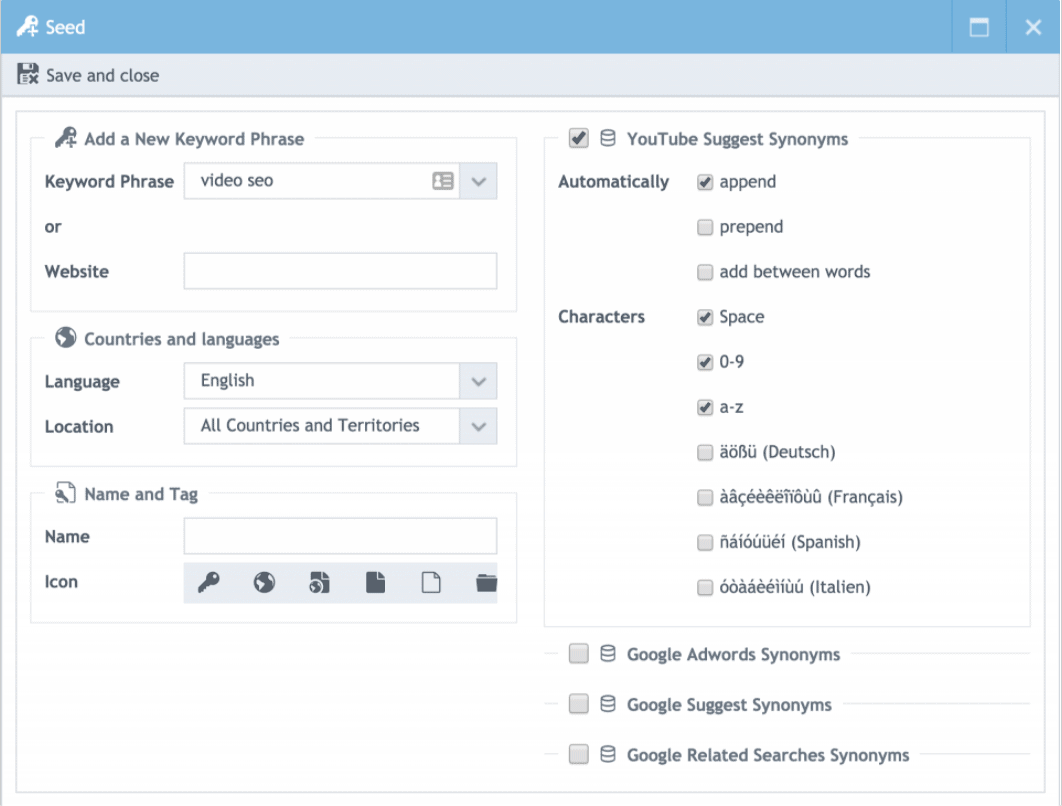 If you come across the monthly searches column in YT Cockpit, it refers to Google searches, not YouTube searches.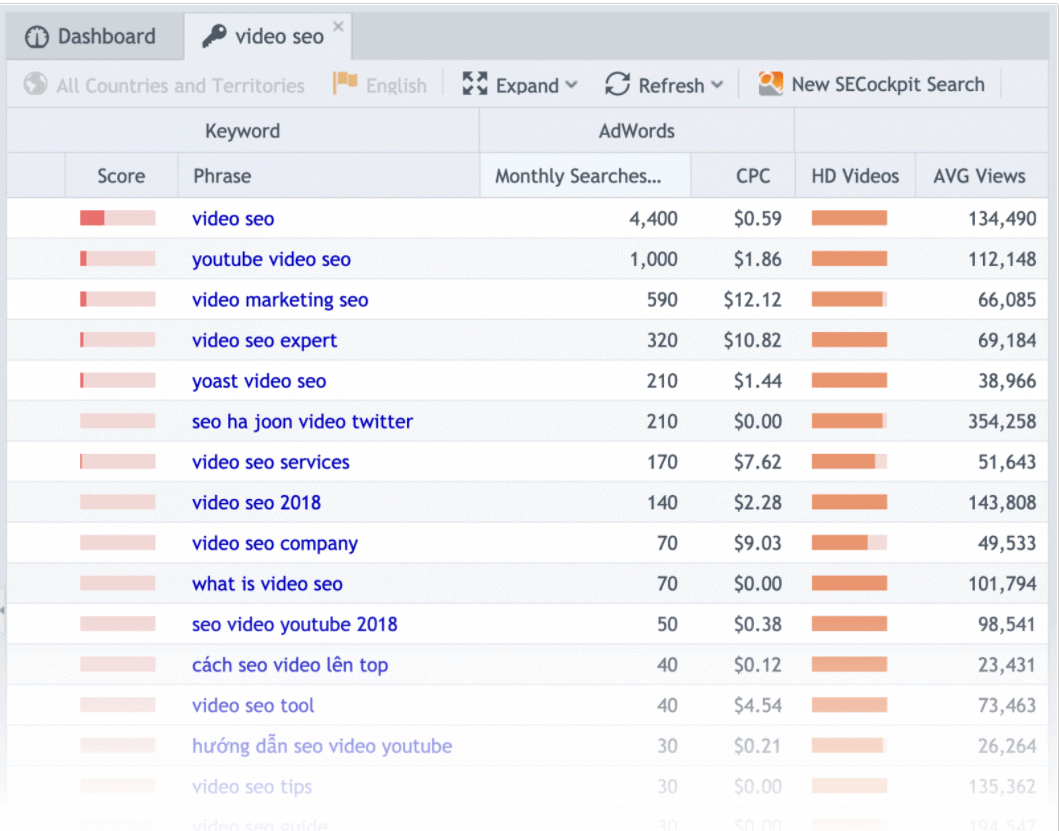 An important element of this tool is the competitor analysis it provides.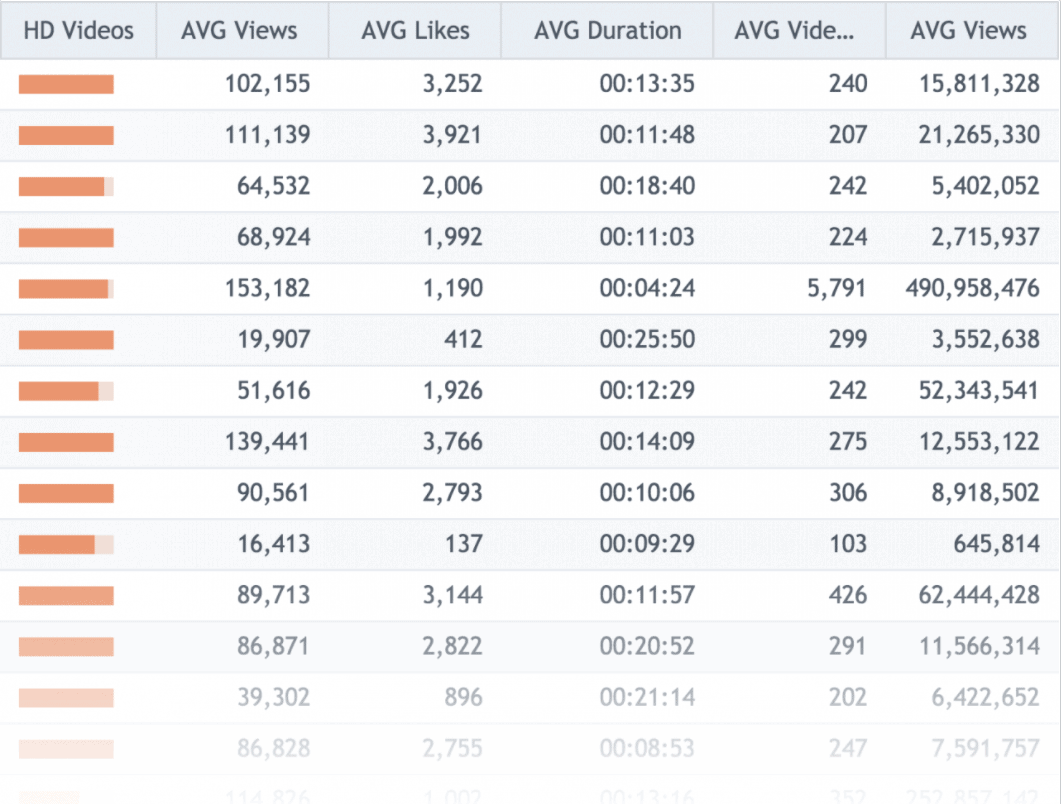 This tool gives you a list of all the highly successful videos for the selected keyword. If there are many successful videos for a particular keyword, you can choose to work with another relevant keyword.
Using YouTube Studio Stats for video seo
Since this tool shows keywords that you have already ranked for, your channel needs to have at least some traction for this tool to be beneficial.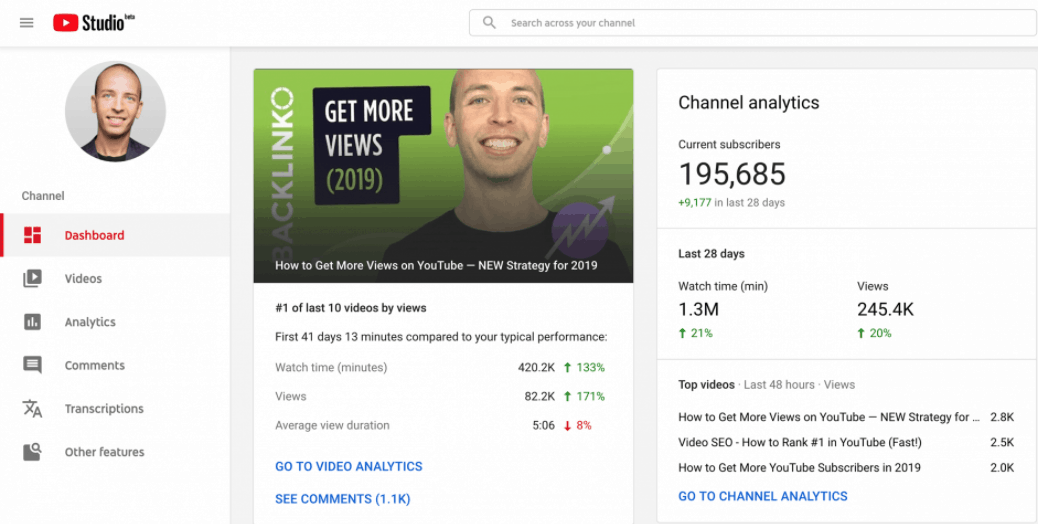 This tool offers you the best keywords for your videos. You can take a look at them via the YouTube Studio dashboard. You can find an analytics option that leads you to reach viewers.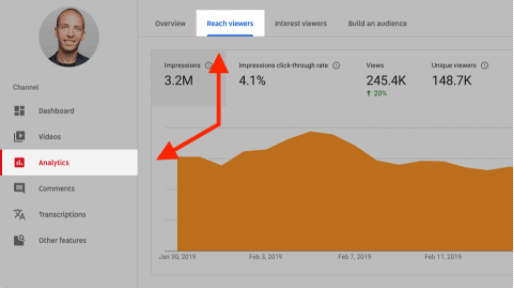 Select the traffic source as YouTube searches and you can see your already ranked keyword list.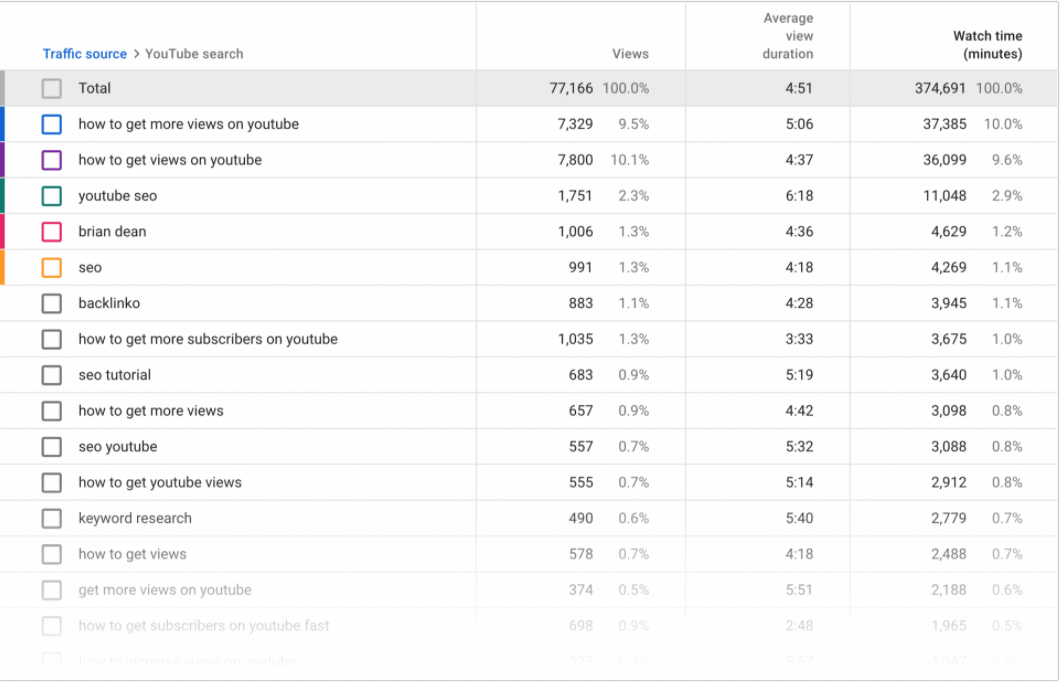 Once you see this list, you can use it in one of two ways:
Optimize an existing video around those keywords
Create a new video using those keywords
Now that you know how to look for keywords for your videos, let's move on with learning how to create top-ranking, engaging videos.
Creating Engaging Videos
Have you ever started watching a YouTube video that you felt like turning off after the first few seconds? On the other hand, have you ever found yourself enjoying a video so much that you not only watched it to the last second, but watched it again, and shared it with your friends?
Both videos in the above scenario may have entailed a lot of hard work from their producers, but only one of those videos will have desirable results.
What makes one video better than the other? I'm glad you asked. There are several metrics that YouTube uses to rank your video:
Watch Time for your video SEO
The Total Watch Time is the most crucial ranking factor on YouTube. It refers to the complete duration of your video.
You can find this metric on YouTube studio.

You can optimize your watch time by creating long videos. Consider this scenario: You create two videos for your channel. The first video is 30 minutes long while the second video is ten minutes long. If people watch 40% of each of your videos, the first video will have three times the watch time that the second, shorter video will have.
This is the explanation behind the idea that longer videos are more likely to have a higher ranking on YouTube.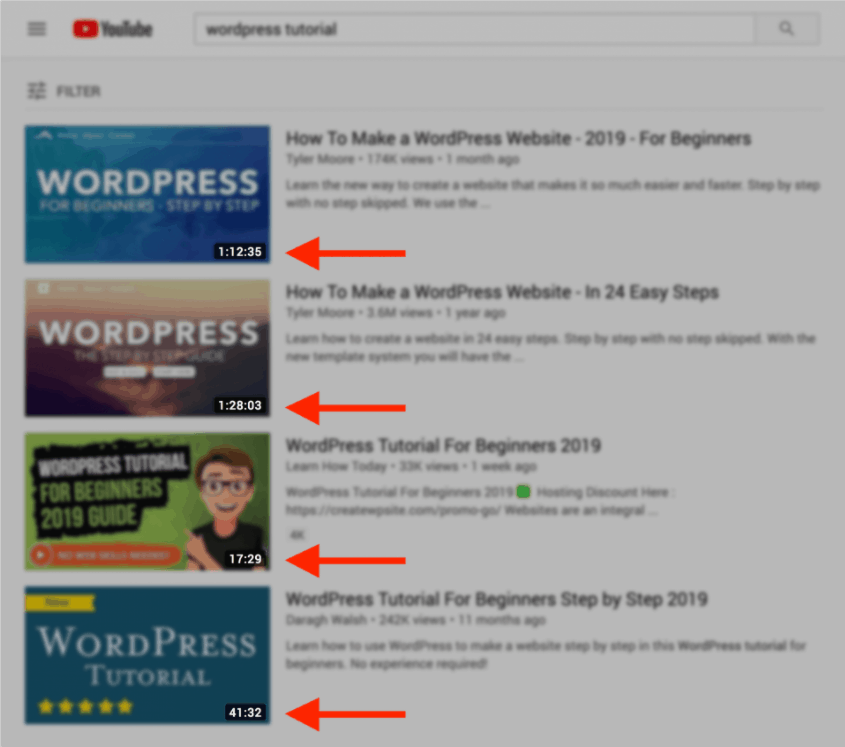 Increase Audience Retention
Audience retention is another ranking factor for YouTube videos and improves video SEO output. It refers to the total amount of time that audiences watch your video.

If you can improve your video's audience retention, you can rank higher on YouTube.
Pay attention to the first 10 to 15 seconds of your video. If you cannot engage someone within that 10 to 15-second timeframe, they will not watch the rest of the video.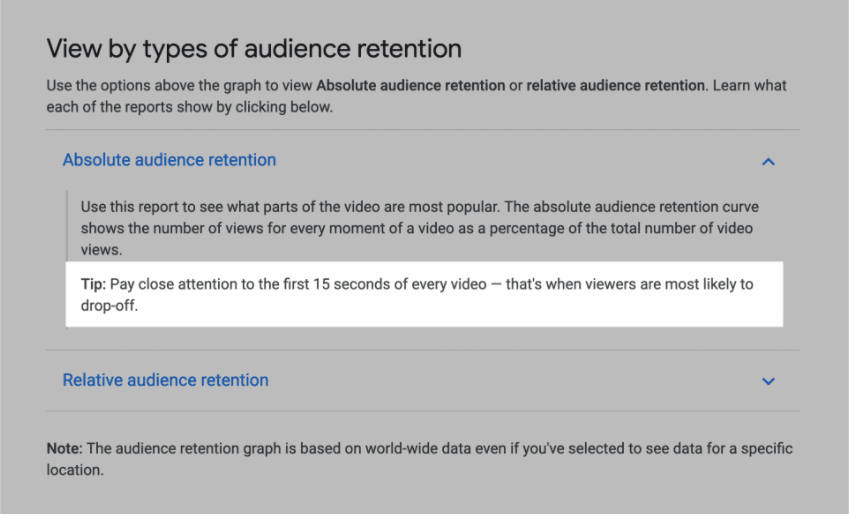 In your YouTube studio stats, check the audience retention reports for your videos. You can see at which points audience retention peaked and dropped in your video.

Try adding pattern interrupts. Pattern interrupts refer to the moments in your video when you change things up a little. It is an element designed to help break the monotony and keep things interesting.
We will look at this metric in more detail in the YouTube SEO section.
Session Watch Time
Session watch time refers to how long a person spends on YouTube after watching your video. YouTube ranks videos with a higher session watch time. Unfortunately, there is no possible way to measure your session watch time.
There are, however, ways to optimize it:
Create a playlist. If the audience selects a video from your playlist, your session watch time increases.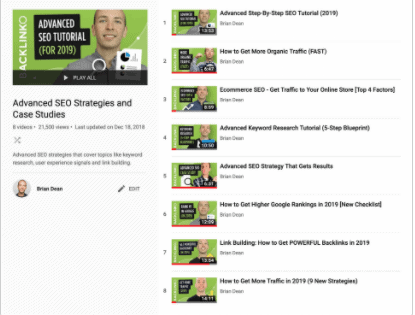 Links at the end of the video give the viewers a chance to visit your channel and improve your session watch time. Try YouTube's End Screen feature to add this feature to your videos.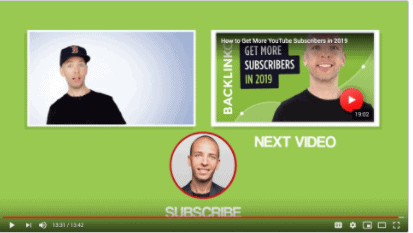 User Engagement
If viewers watch your videos without liking, sharing, subscribing, or commenting on them, it does not help user engagement. YouTube uses the share, like, subscribe and comment functions to measure if viewers actively engage with your videos.
There are ways to improve your videos' user engagement:
Ask your viewers to comment on the video.
Add a subscribe call-to-action to your video.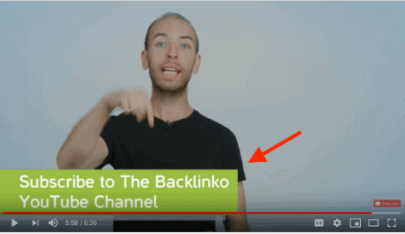 Reply to the comments you receive on your video.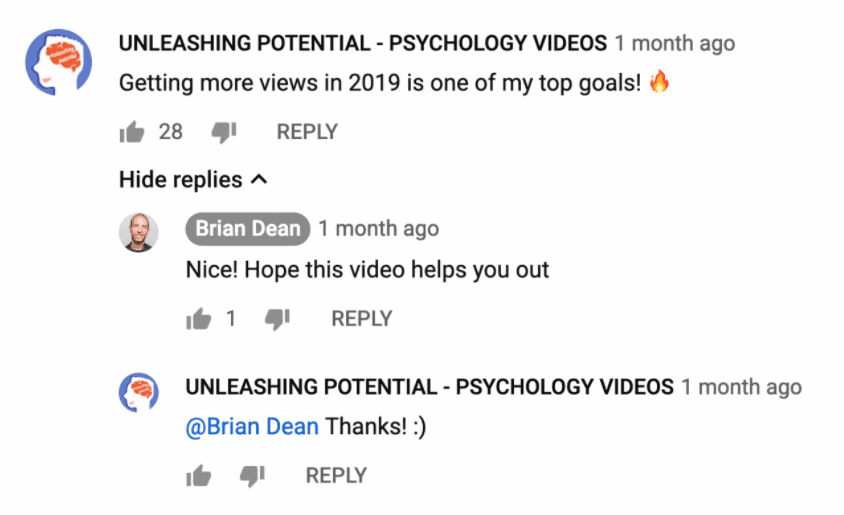 Now that you know how to create and determine what an engaging video is, let's look at some ways you can optimize it for video SEO.
Ways to Optimize Your Videos for Search
The optimization of your videos is as important as optimizing your written content. The video optimization process also includes video keyword optimization.
Try these steps for optimization for video seo
Select the Correct Video Hosting Platform
Selecting the right video hosting platform for your video entails knowing the answer to the first question in this chapter: Why do you want video SEO? What are you trying to achieve? Once you can answer this question, you can proceed with choosing the right video hosting platform.
YouTube and Vimeo are good choices if your goal is brand awareness.
Include a Video Transcript
If you come across a video that has real-time captions, then it has a video transcript. When you add video transcripts to your videos, you make them accessible to a broader audience. It also helps bot crawlers find your videos more easily with the additional information provided by the transcript.
Create an Appealing Thumbnail Image
Whenever you browse through videos, you are scrolling through thumbnail images that represent them. This matters because they are the first encounters that potential viewers will have with your video. Thumbnail images are a big factor in helping visitors decide whether or not to click on your video file.
You should therefore strive for a thumbnail image that is appealing and relevant. If your video is about DIY face masks, your thumbnail picture should depict that. Any random out-of-place photograph will not compel users to click on your video.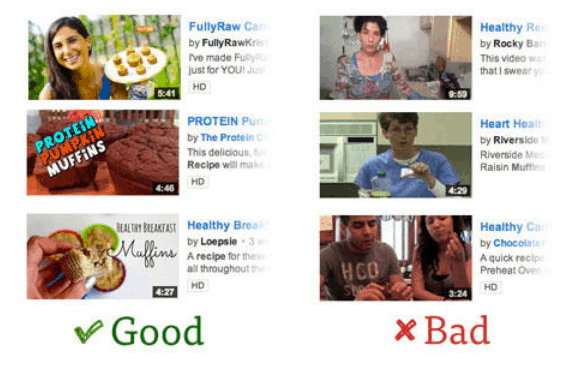 Choose the Right Title and Description for Your Video
When you write a catchy title and a meta description for your video, you are more likely to get views. Remember to include the targeted keyword in your title.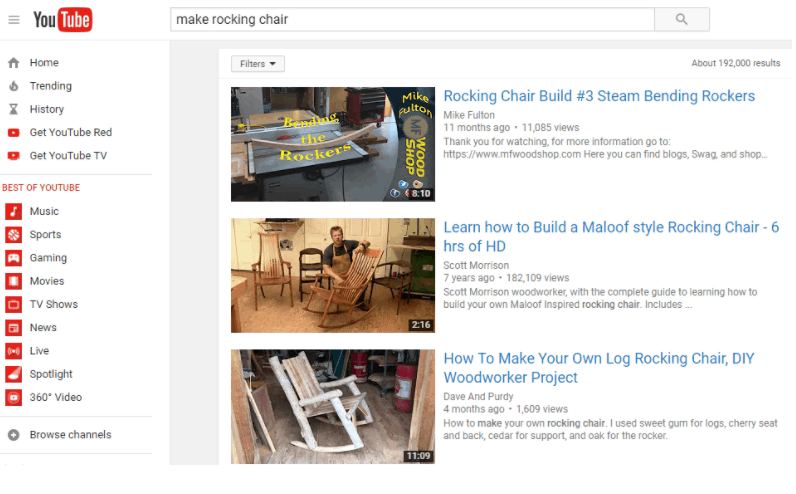 You should also take the time to research how to make titles and descriptions clickable.
Other Content Should Be Relevant to Your Video
Your webpage is more than just your video. It has other elements too. Focus on optimizing other components. Use these elements to explain the relevance of your video.
Gaining organic traffic is a tedious process, but worth it if you optimize all the components of your website.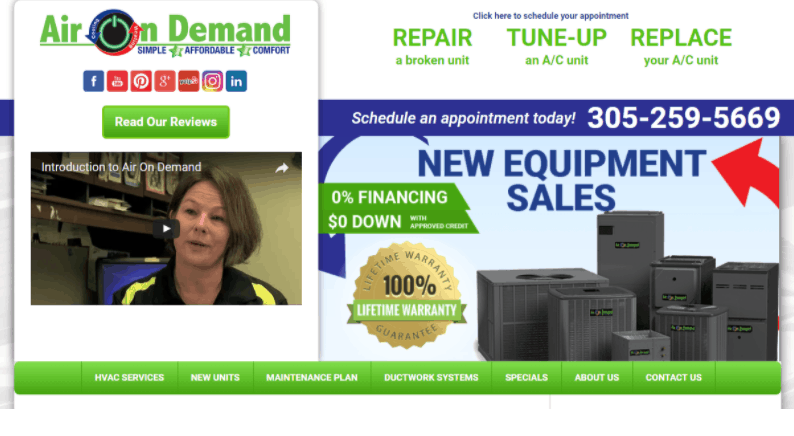 Put the Video You Want to Rank First
This step applies to a webpage that has multiple videos. Google usually indexes only the first video on a webpage. Bot crawlers stop indexing after the first video. Hence, you must put the video you want to rank first on your webpage.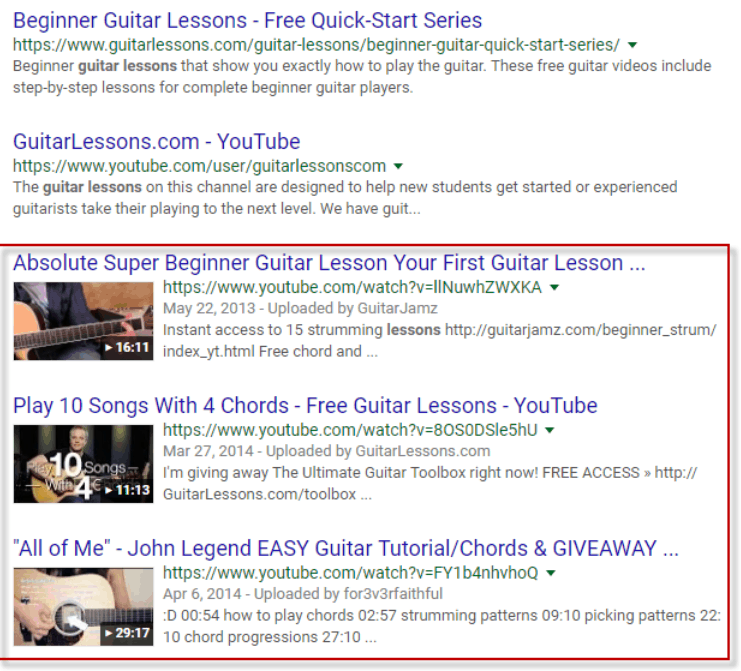 Put Focus on Your Ranking Video
This step is an extension of the previous step. You should avoid adding lengthy information and adding other unnecessary elements to your video.
It's worth repeating that you should place the video you want to rank towards the top of your website. People don't like scrolling a lot just to find the main content.
Do Not Put the Same Video on Multiple Pages
Embedding the same video on different pages of your website only creates unnecessary competition for yourself.
It is likewise illogical to duplicate the same elements that you have on a ranking page to other pages on your website.
Do not do either of these things.
Explore Other Means of Promotion
You could try to promote your video on social media. You need to continue exploring other ways of creating viewership and engagement for your video. Depending on SEO alone is not enough.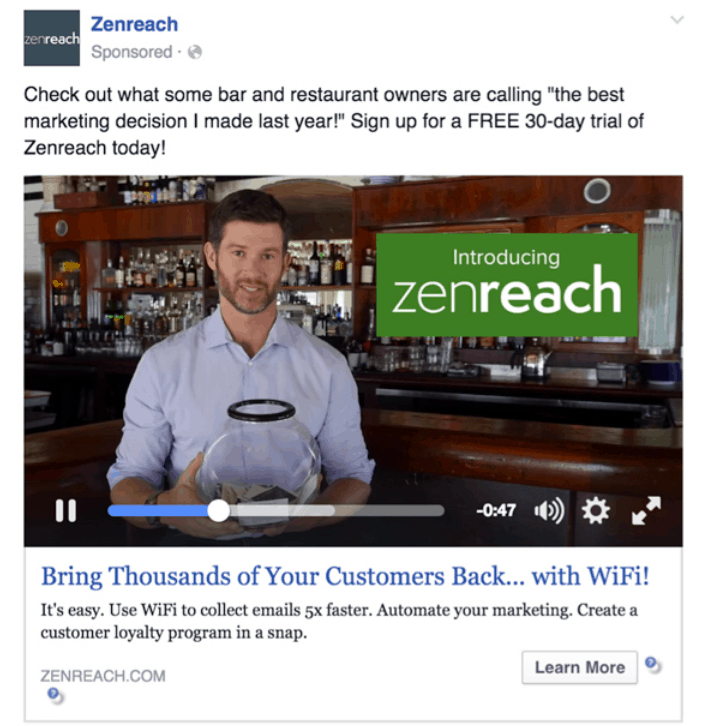 For those of you interested in using YouTube as a platform for your videos, this next section is for you.
How to Rank #1 on YouTube?
Let's say that you have an engaging video ready for YouTube. Let's work on getting that video to rank higher.
YouTube Keyword Research
We discussed this earlier in this chapter. It is the first step towards ranking on YouTube.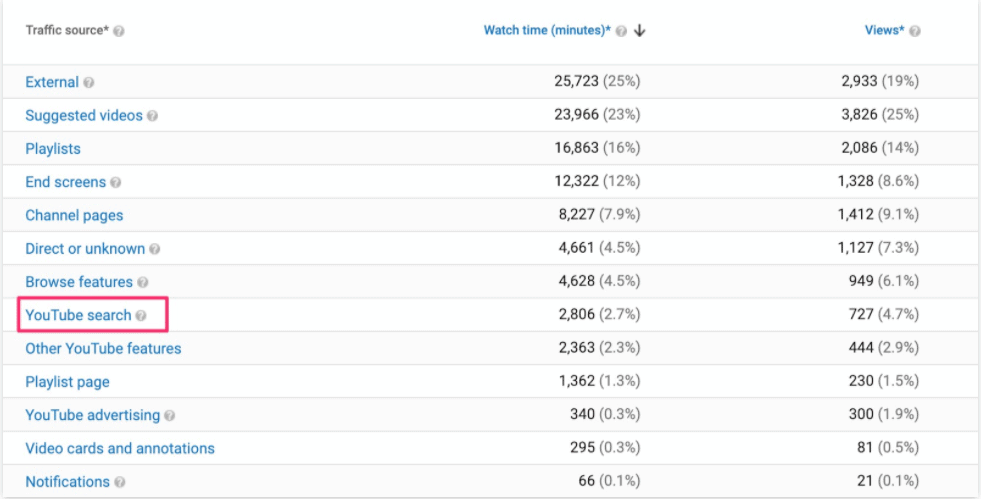 Identify Search Intent
Search intent is a crucial factor in keyword research. It refers to the context and the reason behind a user's query.
YouTube search results can help you identify this search intent.
Establish how your video addresses different users' intent. If your video is a tutorial, YouTube likes step-by-step guides. If your video ranks different items in a specific category, use a listicle format.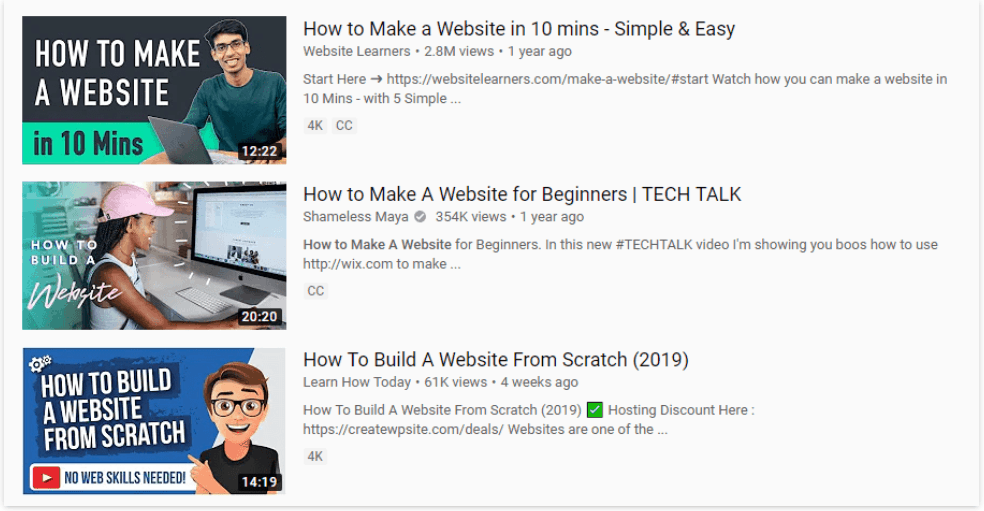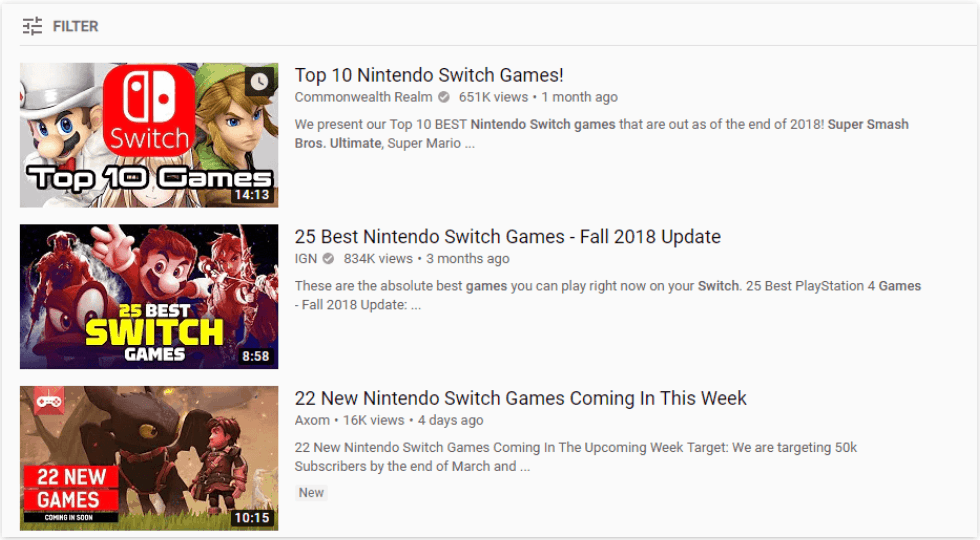 High-Retention Videos
You are now familiar with the concept of audience retention.

Let's look at the steps that help to optimize audience retention in more detail:
You may have decided what your video is about, but you still need to flesh out a proper plan before producing it. If it helps, write down the script for your narration. You can also create a storyboard for it.
You have come across this step before. The first 10 to 15 seconds of your video are crucial. These few seconds set the tone for your video and help viewers determine whether they will watch your video to the end or not.

To increase user engagement, ask people to comment, like, share, or subscribe to your channel in every video.
If your video is lengthy, you need to edit it strategically. People do not like to sit and watch monotonous videos. They want to watch videos that they find engaging.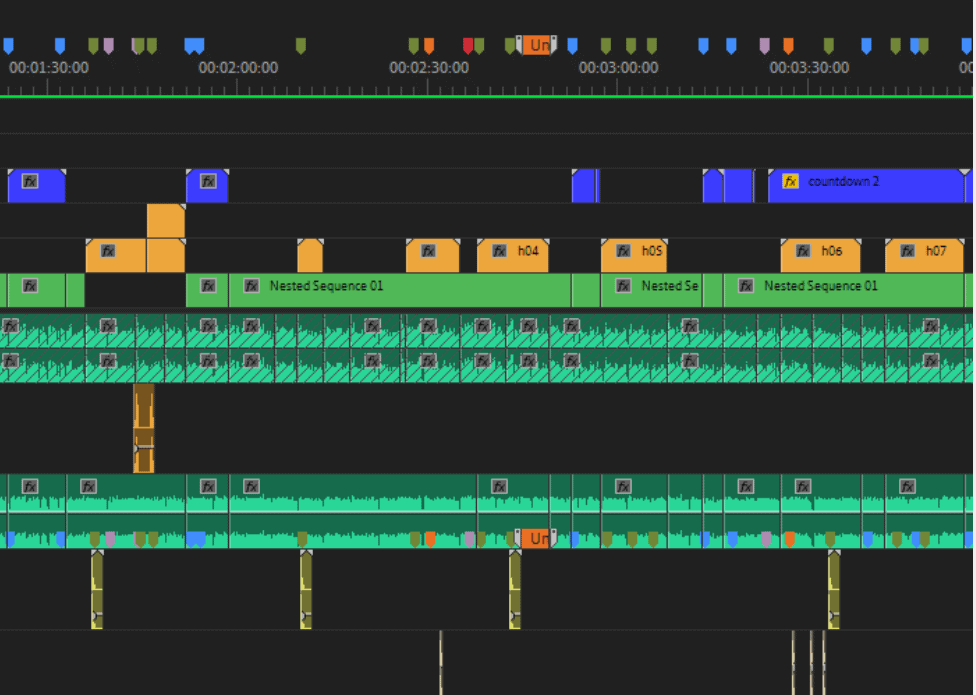 These editing techniques can help you increase retention:
Add jump cuts to quickly transition from one scene to another.
Minimize gaps between key scenes.
Guide your viewers to the video elements you want them to focus on.
Use stories or narratives to share information.

Feedback is important
Feedback is not limited to viewers leaving comments on your videos. The feedback process begins with your video SEO team. You should use them to:
Get feedback on your script.
Get feedback on your video edits.
An engaging video is a result of actively soliciting and getting feedback even before you release your video online.
On-Page Video Optimization
This step refers to all the tweaks and changes you need to make to your on-page video elements.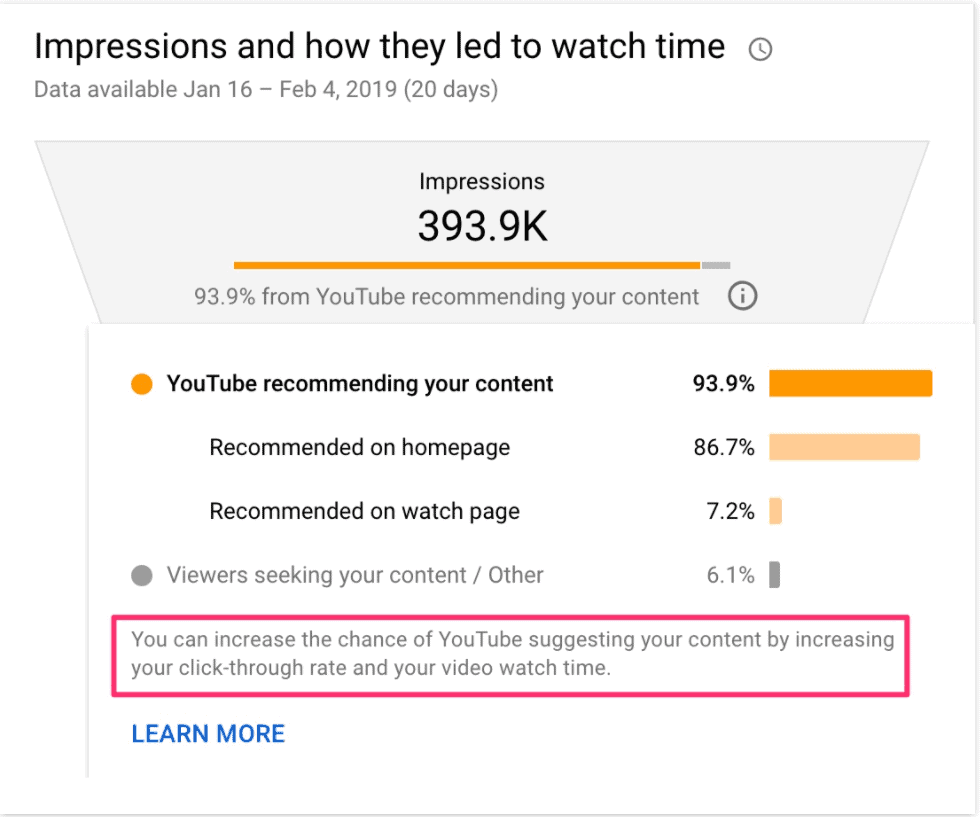 A few basic reminders:
Craft an appropriate title and description.
Choose or come up with an engaging and relevant thumbnail.
Use tags whenever necessary.
Optimizing In-Video Elements
Your video has elements that need optimizing. For instance:
Include video transcripts (This was previously mentioned in optimizing the search section).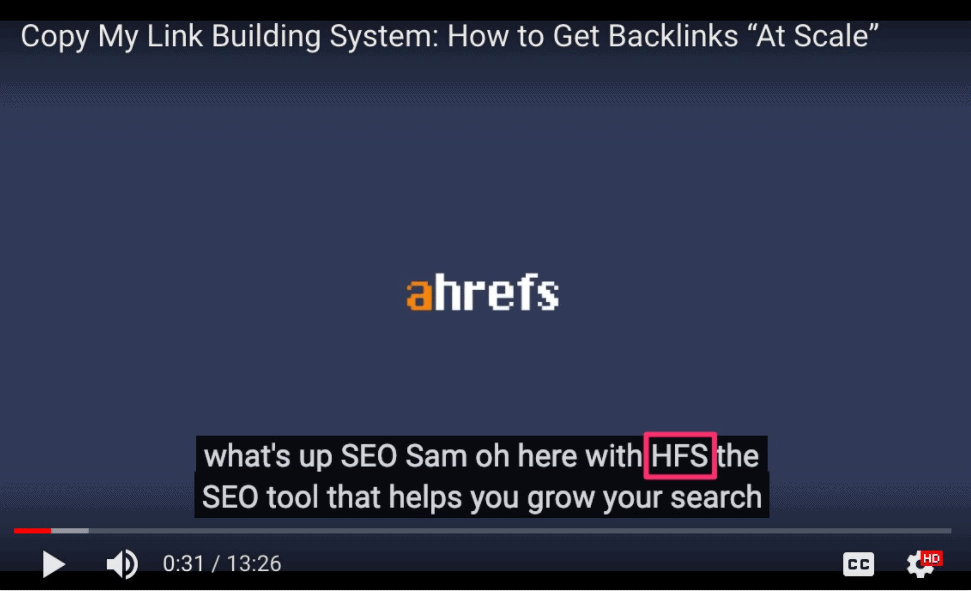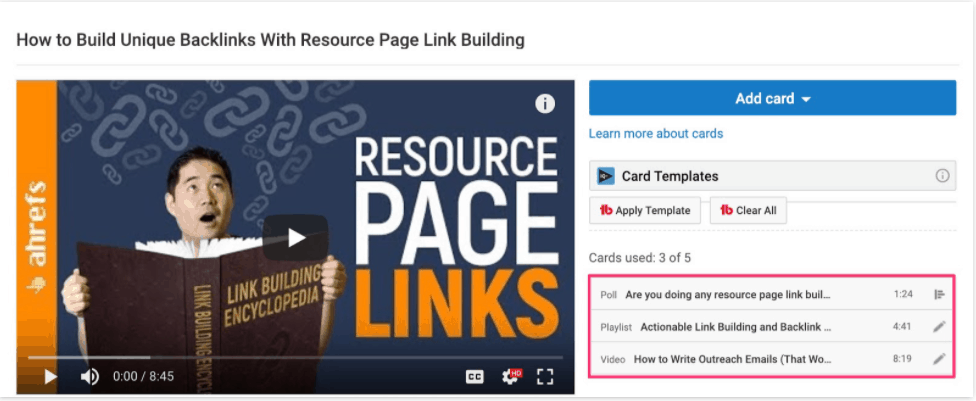 YouTube cards are an interactive feature that is displayed towards the end of videos. It allows the video content producers to share clickable links to other content that they believe viewers might be interested in. By utilizing YouTube cards, you allow your viewers to:
Watch other videos you've chosen for them
Browse through another YouTube channel
Donate to nonprofit organizations
Answer a poll-type question
Click on an external link
You can add these cards by linking them to your video timeline. When the viewer reaches that part of the video where you linked a Youtube card, it appears on their screen.
YouTube end screens are similar to YouTube cards. The only difference is that YouTube end screens only become visible towards the last 5 to 20 seconds of your video.
Publishing and Promoting Videos
The first 48 hours after publishing your video are important as they can tell you how well your video did. Of course, you should use these 48 hours to promote your work. Here are a few factors that you should consider during this crucial time frame:
Determine the best time to publish your video.
What time are your targeted viewers on YouTube? When are they most likely to click on your video? Finding the best time to publish your video is one of the most crucial factors that will help you gain a higher viewership for your work.
Though there is no exact formula for the best time, you can try monitoring YouTube's peak viewing hours.
Engaging with your audience is key to promoting your video. YouTube offers you a way to like comments, and reply to them. Use this feature to your benefit.
Leverage your existing audience.
You can try to gain new viewers for your channel or videos, but don't forget about the audience you already have. One way to boost views from people who have watched your videos before is to promote your video on social media.
You can send out newsletters whenever you have new content.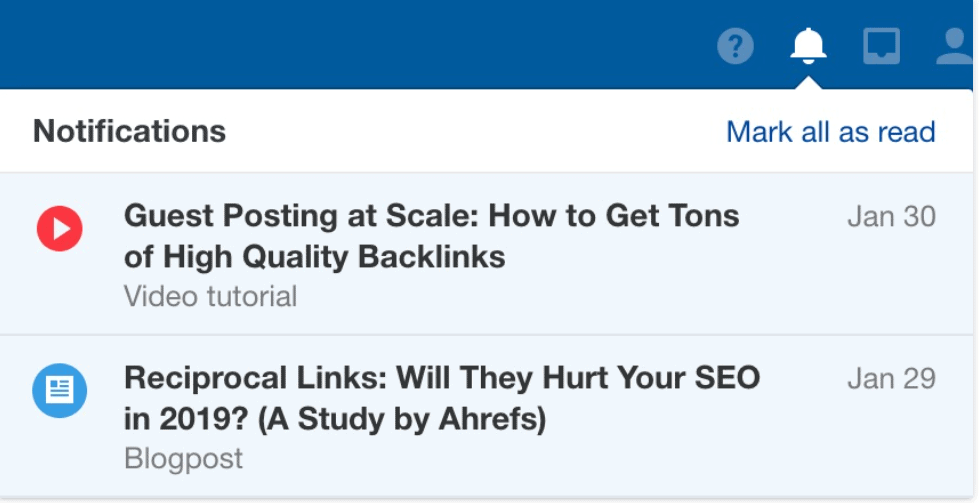 Include links on your social media handles.
Make your video links more accessible on social media by publishing these links alongside your social media handle.
Promote your videos to new audiences.
If you do not have an existing audience, promotion can be tricky, but there are ways to gain new audiences:
Look for relevant discussion boards like Quora where you can share your video links.
Try collaborating with other YouTube channels.
Pay for YouTube ads based on your targeted keywords.
Optimizing New Videos
After publishing a video, you can no longer edit it, but you can use the data you have from your existing videos to optimize subsequent videos.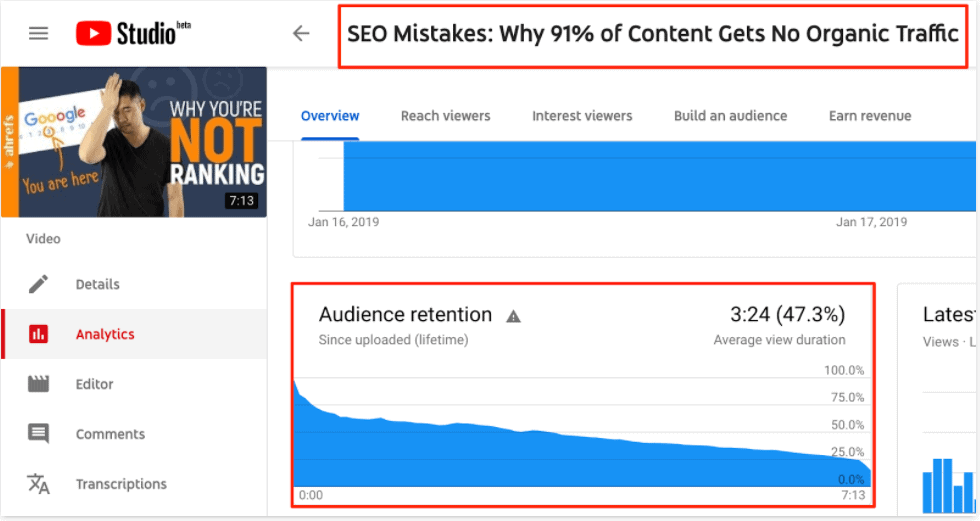 Analyze your audience retention graph on YouTube to get to know what your viewers like.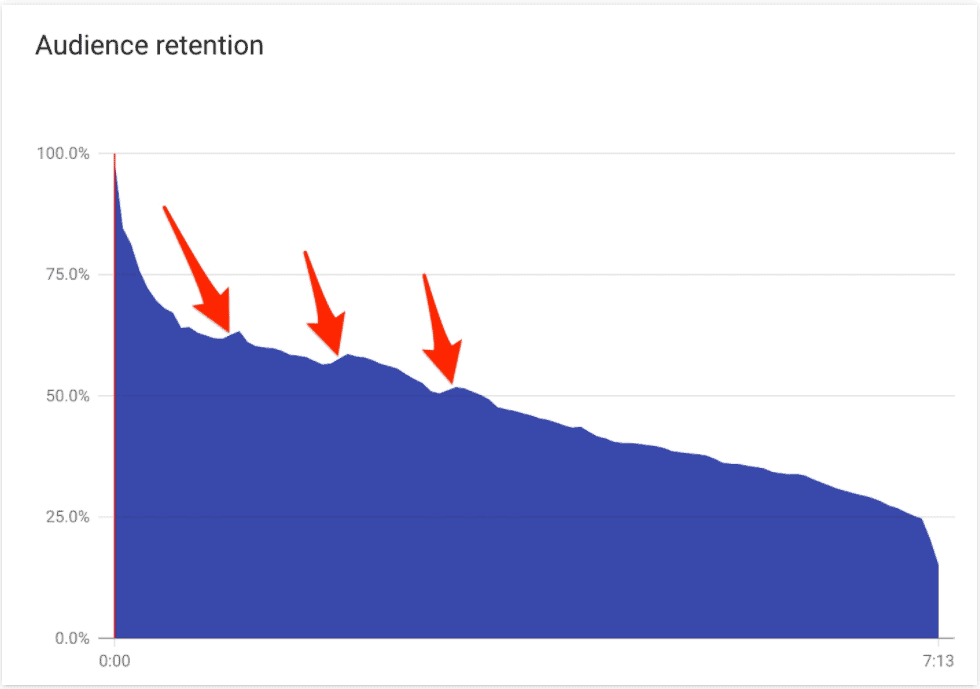 Find out if your video aligns with the search intent of your viewers. (You can do this through your YouTube studio dashboard)

Now that you know the steps you need to perform to rank on YouTube, let's turn our attention to getting your videos to rank on Google.
Rank YouTube Videos on Google
There are several steps you can follow to get your YouTube videos to rank on Google.
Look for Potential Topics
As you read in an earlier chapter, topics that might rank on YouTube might not rank on Google. Your priority now should be topics that people search for on Google.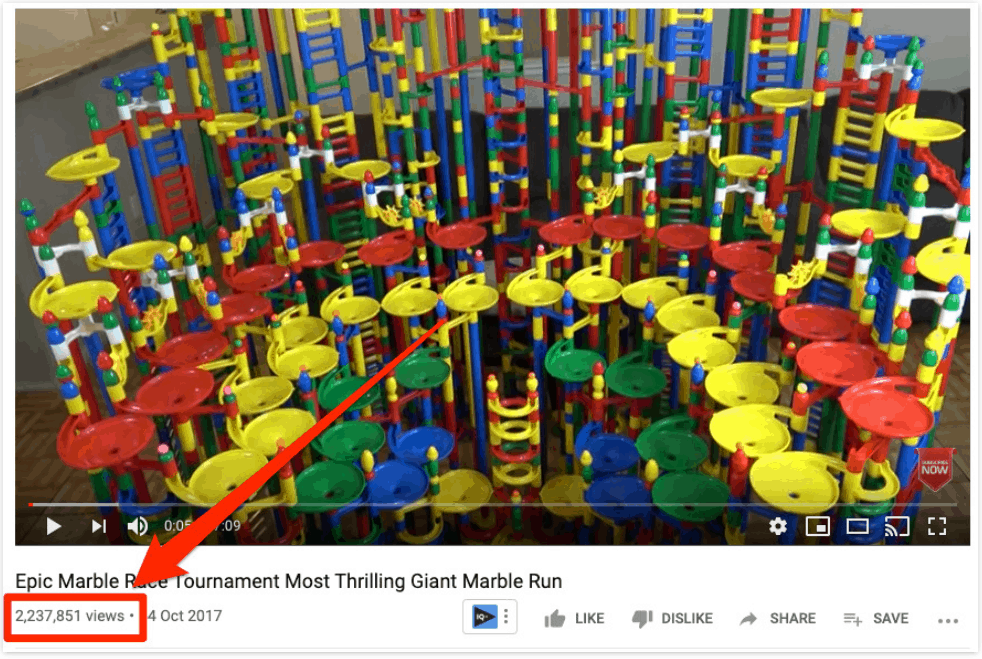 You can also focus on the video intent behind a topic. For instance, when looking for instructions on how to cut up certain fruits, people are more likely to watch an instructional video than try to read about it. Knowing this, you need to do some research on appropriate video keywords that are relevant to your chosen topic.
Optimizing Your Video for Suggested Clips
Google uses suggested clips to feature highlights from selected videos that it believes to be relevant to a search. They are embedded in SERPs and play directly from them. Users can therefore preview parts of a video through suggested clips.
To increase the chances of your video becoming one of these suggested clips, you need to make sure that your video is concise, helpful, and engaging.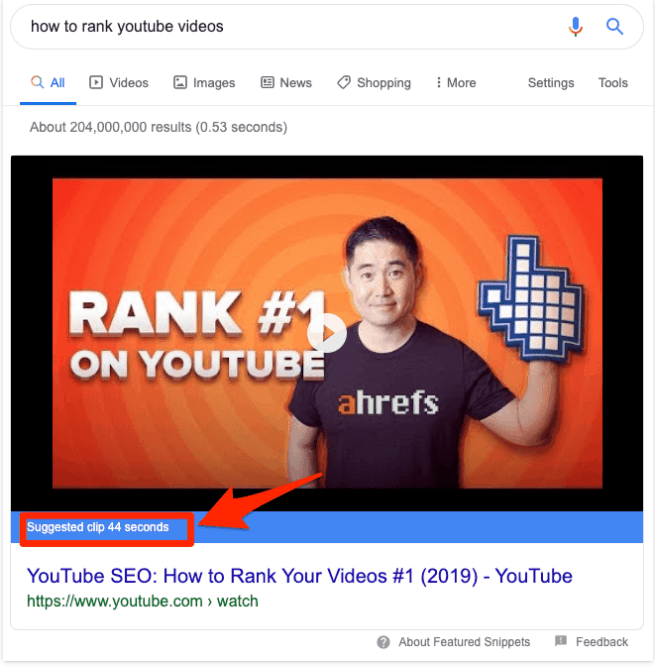 How to do this? If your video is a step-by-step tutorial, you need simple action words for each step. For example, if your video is about making lemonade, your video's instructions can be:
"Squeeze some lemon juice into a glass. Add sugar and salt according to taste. Mix it well using a spoon. Pour ice cubes into the glass. Fill the glass with water. Finally, add a mint leaf garnish."
What we are trying to show in the above example is the significance of simple action words. Do not add unnecessary content to your video. Use a clear voice for narration.
Lastly, if you provide instructions for something, make sure that the accompanying video clearly illustrates your point. For example, if your video says pour ice cubes into the glass, show ice cubes being poured into a glass to support it.
These techniques will aid your video's chances of becoming a suggested clip for a relevant query when performed successfully.
Take Control of Your Closed Captions
It is unattractive to have incorrectly closed captions in a video. YouTube adds these automatically to your video, and they can be full of errors sometimes.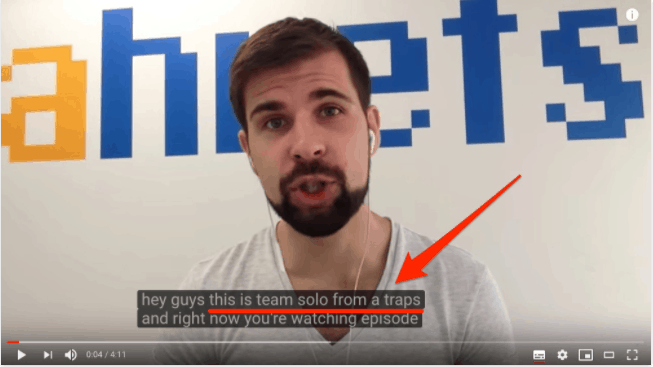 Add in your captions to ensure that they are correct. This will help with user engagement and your Google ranking.
Use A Compelling Thumbnail
The thumbnail image you choose should make viewers want to open your video link. Make sure to use a thumbnail image relevant to your video so that people searching for the content you offer can easily find it. A compelling thumbnail needs to be:
Customized based on content
Appropriately sized. Your image should not appear stretched or pixellated. It should be the right aspect ratio. (Google's aspect ratio is 16:9.)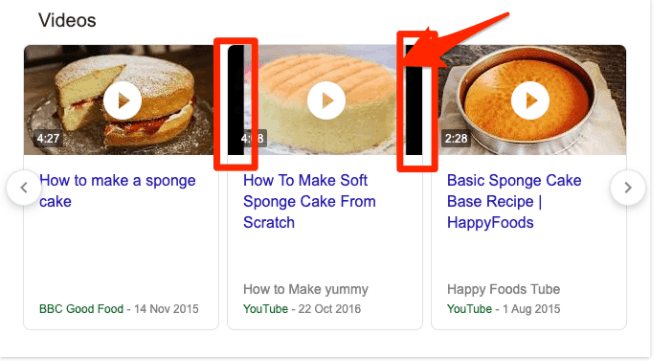 If your video content solves a problem, your image can show that problem being solved.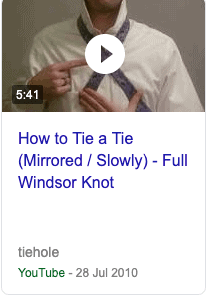 The Thumbnail images are small. Make sure your audiences can easily see what they contain. If there is any text, it should be readable. Use contrasting colors to make any elements in your graphic easy to see and make out.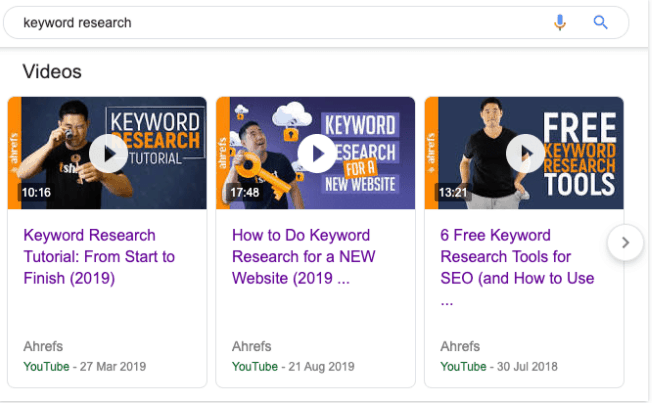 Add descriptive text in the video description field to go with your thumbnail image.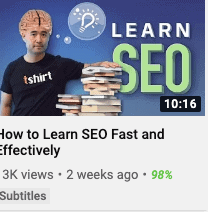 Highlight Key Moments From Your Video
Google has a relatively new feature that allows users to survey important moments from your videos through time stamps. The feature is called Google Key Moments. It allows users to skip to a specific section of your video that they find relevant. Since it gives videos more chances to rank, you should consider taking advantage of this by adding timestamps to your videos.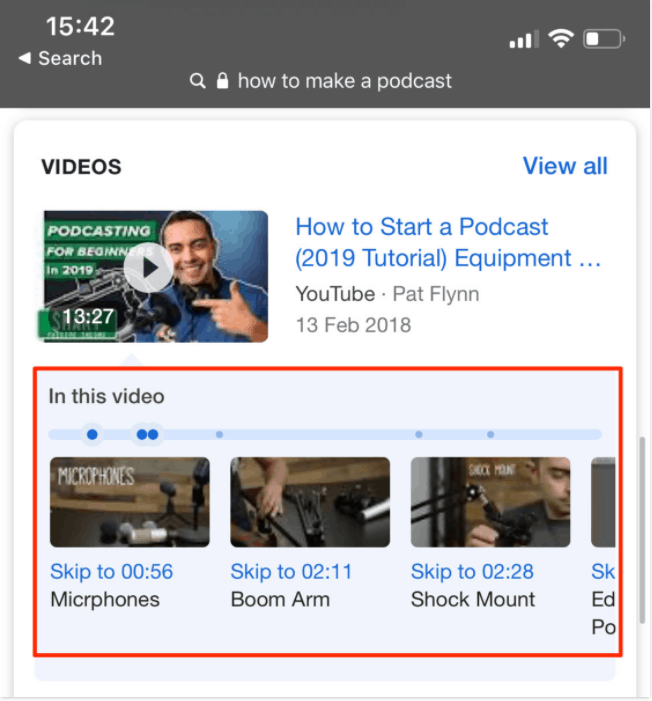 Fundamentally, this entails creating an outline of your video based on timestamps in YouTube's video description box.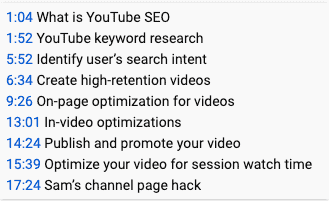 The basic elements for creating Google Moments are:
Timestamps – This is a link to a section of a YouTube video. It is usually in the following format: [hh] : [mm]:[ss].
Labels – These are one-line descriptions of the clip.
Make the most out of your timestamps by doing the following:
Use the video description box for your timestamps. Do not put them in a comment.
Every timestamp should be entered on a new line. Do not enter them all in a single line as this looks cluttered and can be confusing for viewers.
Aim for concise and descriptive one-line labels.
Follow a chronological order for placing your timestamps.
Avoid adding too many timestamps for one video.
Please note that the Google Key Moments feature only works with content from YouTube at the moment.
In these modern times, every smartphone is equipped with a video camera. Videos are as popular as ever. They have become more accessible and easier to make.
However, creating effective, relevant, and engaging videos is still an intangible skill that is hard to quantify. Despite the absence of a holy grail for creating the next viral video, we hope that you can use the ideas and techniques presented in this chapter to make video SEO work for you.