People into business or any service industry are aware of the benefits of digital marketing if you want to reap fruits of its benefits you need to engage a team of talented people who can take charge and execute the digital marketing plan effectively.
But a question always arises as to whether to engage an "In house marketing team or hire a digital marketing agency?
There is no set rule as which option will be more appropriate. It all depends upon the need of the hour and the type of business you are in.
Digital platforms became increasingly included in the marketing plans due to increased usage of digital devices by the masses. Day by day, people started using the online channel for purchasing rather than visiting the stores personally. People have realised its worth in the recent pandemic and lockdown wherein people have found it very convenient to shop online and online companies have provided excellent services across the globe.
Let us try to understand the benefits of both one by one:
Benefits of working with Digital Marketing agency
A digital marketing agency drives result based marketing strategy as per the set targets. It is a marketing component which utilises the internet and digital technology options of the laptop, cell phones and other digital media to promote their products and services. It got a higher pace during the 1990s and 2000s, and it changed the way brands and businesses use digital marketing for promoting their products. They act as a substitute against an in house team of experts performing the same set of work responsibilities but from outside. They have excelled in their area of expertise  and have a dedicated team to deliver the best.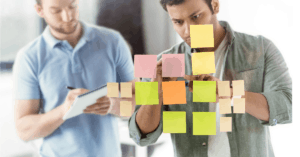 Listed below are some benefits of engaging a digital marketing agency:
Excel and Expertise: They are connoisseurs in their field, which mainly comprises of Social media marketing, content marketing, data analysis, SEO rankings and much more. Here you have the option to ask for a particular service, and they will send their skilled staff to provide the necessary guidance to you. They are considered to have a high level of competency as every agency specialises in a particular area of digital marketing, and they deal and provide services to multiple clients. Therefore their expertise will higher, and the chances of getting the desired results increases. An agency can work with loads of clients at a time, and they are sufficiently staffed too to provide best services.
Diversified Skills: Whenever you hire an agency, you will never be hiring a single person you are hiring a team as a whole which may comprise of a fair amount of people say ten or more. Hence when you have a deadline to achieve this type of set up will be of great help as they set the entire team to work for you. A diversified group turns out to be very fruitful at the time of any problem or any issue. Being an experienced team, they can resolve the issues faster. Flexibility is another advantage of hiring an outsourced team. Since they have a team to cater to your need, in case one of the strategies is not giving fruitful results, the experts will immediately switch to an alternate plan. Hence you will not be missing the deadline in any scenario.
Scaling new heights: Every Company no matter small or big wants to rise high in the field. Success comes with a fair amount of customers and a dedicated team of talented people. If you tie up with an efficient marketing agency, you can scale these heights with quite an ease. Since you have a hired an outsource agency you are free from the headache of recruiting management personnel, developing plans and strategies,  arranging a meeting to get the work on time etc. The agency will look at these things up, and you can utilise your time for other important work.
Transparency: When you are working with an in house team of digital marketing it becomes challenging to figure out whether you have hired the right personnel and you will have to give them time to prove their expertise. You might have done sufficient research work to test the talent of the personnel and might have done a reference check as well. But at times they prove to be wrong as the comments coming in from references may not be the actual truth always.  If you are performing a reference check of an agency, then there are fair chances of getting the correct feedback by going through the reviews on social media and by getting in touch with their existing customers.
Active partner: An agency works as an active partner when it comes to designing the plan of action and strategies for a digital marketing campaign. But in case of an in house personnel's, they may not always feel like expressing their views unless they are a part of the senior management. Hence the planning's are more result-driven, and the chances to get diverted are minimal. Since they have dealt with various customers, they are capable of identifying the problems coming in at an earlier stage and keep their solutions ready beforehand.  Being an experienced team, they are well aware of when to launch a particular sales promotion campaign and measures to be taken when the sales go down.
So friends have said that we have gone through some of the significant benefits of hiring a digital marketing agency. Another essential factor is the cost of hiring an outsourced team. It is suggested to plan the budget and then go for hiring so that you may not be running out of funds in the end. It is not necessary to appoint the most popular in town as they might be expensive for your pocket neither does it mean the one charging less will be less competent. Meet a couple of agencies and then decide to tie up wisely looking at the long term perspective as digital marketing is a continuous process and if you hire a good one will help you in the long run.
We shall be going through the benefits of hiring an in a house in the next post.